"TheSuzyTodd Memoirs" will follow plus
"TheSuzy.com's Shows" by 2025.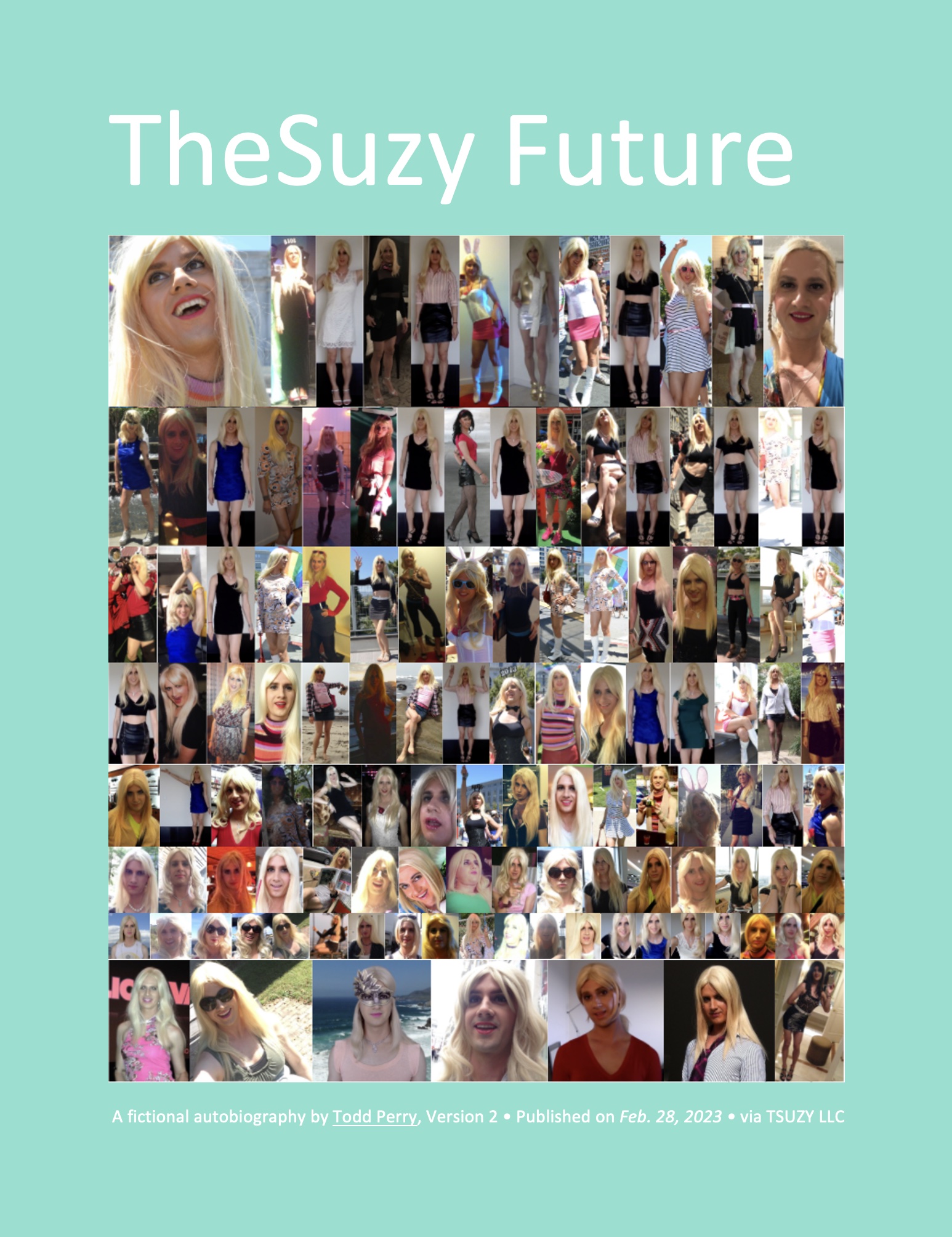 THESUZY FASHIONTEXT is Todd's flagship fictional autobiography, which translates both his lived experience and his apsirational worldview into a maddeningly beautiful text that a fictional character like Suzy could have written about her real life, within a parallel universe that was becoming more and more like our own physical universe, right up until she was born in 1971, and also because she started inventing whimsical fake names for entities like the place where she eventually went to college and her emergent identity as a mother figure for AI robots called TheSuzy.
THESUZYTODD MEMOIRS serves as a primary companion novel to, "TheSuzy FashionText," which was a fictional autobiography that Todd could not have written and then finished editing himself without also writing these three mini-memoirs, in which left and right smilers, Conri and Fred, repsectively, help Suzy explore of themes that range from envisioning gender fluidity as the foundation of prehistoric religion to imagining social media as a the opening act of mass-hypnosis within the rapidly accelerating race to build AI robots that might take over the world in our lifetimes.
THESUZY.COM'S SHOWS exist because, in Suzy's universe, when she was 36 years old and pretending to be a robot called TheSuzy on a reality-TV show, she used the blogging features of her new age news site, sharkinjury.com, to publish the first version of, "TheSuzy.com Show: Conversations About the Culture of Silicon Valley," and then, at the age of 42, she began selling printed copies of the latest version of her show as part of TheSuzy trilogy of sci-fi books about the history of humanity and AI, such that the text of all three books continued to evolve online, in conjunction with audience feedback, at TheSuzy's instance of an open source software project called FashionText.
OPTSuzybot says: visit https://toddperry.medium.com/about-thesuzy-books-d88ff7aad6e0 for more information.
© 2022 TSUZY LLC. All Rights Reserved.